The nonpartisan Congressional Budget Office released a sprawling economic report, and it underscored how dire our looming economic forecast looks. If we can somehow avoid falling off the fiscal cliff and deflect Taxmageddon, thereby averting a wave of scheduled tax hikes as the "Bush Tax Rates" expire, we can hopefully stay stagnated as we are today. Keep in mind that this is an overly optimistic forecast and a best-case scenario for the U.S. economy next year. This means the BEST we can hope for if Americans give Barack Obama another four years is 8 percent unemployment, and economic growth of 1.7 percent–That is as good as it gets.
Whether one likes to admit it or not, the deficit has hovered near $1 trillion for each year of the Obama presidency, meaning that Obama did not satisfy his 2009 promise to halve the deficit by the end of his first term. Obama said this about his budget, "We built this budget around the idea that our country has always done best when everyone gets a fair shot, everyone does their fair share and everyone plays by the same rules." The only rules the Obama administration are imposing are Marxist ones attempting to spread the wealth around. It is worth examining what the President's budget proposes for the next four fiscal years.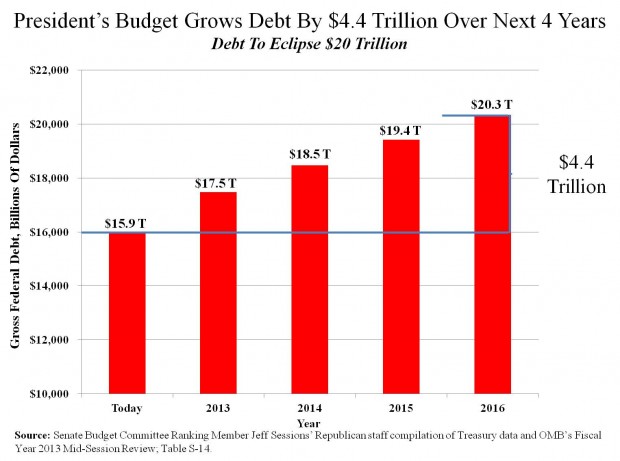 Yes, the national debt will surpass $20 trillion by 2016.
Under the President's budget policies, federal debt will increase to $25.4 trillion by the end of 2022, an increase of $10.6 trillion (72 percent).
Federal debt at the end of the current fiscal year will stand at $16.2 trillion—$6.2 trillion above where it was 4 years earlier.
In the last 4 years, the debt increased by more than it did in the previous 17 years.
The $1.8 trillion in tax hikes in the President's budget finance $1.4 trillion in spending above projected growth, not deficit reduction.
Debt will remain permanently elevated above 100 percent of GDP — a level of debt that economists

believe

results in weaker growth and millions of lost jobs.
The CBO report goes on to summarize that if we continue or increase our current tax and spending policies our economic outlook would only improve in the short run but would boost deficits and debt significantly and would place the budget on a path that is ultimately unsustainable. The Senate has done nothing to remedy this situation. The president has done nothing. Remember, President Obama's budget was embarrassingly rejected by the Democrat controlled Senate 99-0 and in the House it failed to garnish one stinking vote where it failed 414-0. Watch Stu Burguiere explain what he calls "the deficit blame game" while he compares President Obama's deficit to the total deficit of former President George W. Bush, who Obama routinely blames for all of his administration's shortcomings. (Well, that and tsunami's, headwinds from Europe, ATM's, and even on-line travel sites)

Obama knows that his economic policies are conducive of neither liberty as traditionally conceived by Americans nor prosperity. He is many things, but he is not incompetent. His policy flows from his vast knowledge and exposure to both Keynesian economics and neo-Marxian philosophy. The problem is that most Americans did not realize what Barack Obama meant when he envisioned a "fundamental transformation" for our country. Obama's idea is unlike the image most Americans have acquired an affection for and even more unlike the America which our ancestors called  home. The philosopher Ronald Dworkin said and Obama would agree that "a more equal society" — a society where the resources of which are equally "distributed" — is better than the contrary, even if its citizens prefer inequality.
What this means is nothing short of the death of America as it is currently constituted. While the president genuinely believes that his plans are what's best for the country, his policy prescriptions are indeed ultimately destructive. Barack Obama blames everyone but himself, DO NOT FORGET THAT THE DEMOCRATS CONTROLLED BOTH THE SENATE AND THE HOUSE FOR THE FIRST HALF OF HIS TERM, and Obama got passed every piece of legislation he desired. Under such leadership, American incomes declined more in the three-year expansion that started in June 2009 than during the longest recession since the Great Depression, according an analysis of U.S. Census Bureau data by Sentier Research LLC. The research firm's Gordon Green, who previously directed work on the Census Bureau's income and poverty statistics program, "Almost every group is worse off than it was three years ago, and some groups had very large declines in income, we're in an unprecedented period of economic stagnation."